Don't miss your opportunity for savings and cash back. Check out
Rakuten for the best deals
to maximize your Christmas budget.
Never worry about the size of your Christmas tree. In the eyes of children, they are all 30 feet tall." – Larry Wilde
Baby's first Christmas is the most special time! Your new bundle of joy brings all sorts of excitement. Our little pumpkin was still only a few months old when it was Christmas time.
After many years of it just being my husband and I, one thing became certain after after having a baby; Christmas will never feel the same–but in the best way possible!
Treasure every moment with your little one. Christmas may be your baby's first holiday but one things for sure it will definitely be your baby's last, first Christmas.
However, many months your baby is, it is sure to be wonderful. Take lots of family pictures and pictures of baby. But don't just take the photos, have them printed, framed or tucked nicely into a photo album. No matter how big your baby is getting, he or she will never again seem so small. Here are the
Check out some of Baby's First Christmas Musts.
*This article contains affiliate links.
8 Baby's First Christmas Musts
A to-do list for Baby and Family this Christmas Season
1. Take a Family Photo

If you don't have a family photo tradition yet, this is the perfect time to look for the right one. Maybe you would like to gather around the Christmas tree and take a photo?
Perhaps you would like a formal picture in your nice Christmas clothes in front of a roaring fire place. Or maybe even a photo in Christmas Jammies holding onto the banister of the stair case.
2. Make Hand Print and Feet Print Ornaments
These are wonderful to pull out of the Christmas decorations box every year. My heart melts every year when I see how little Libby's hand and feet were that first Christmas.
Capture those little feet and fingers in paint or clay ornaments and show them off on your Christmas Tree. In another years time you will be amazed at how big those little toes and fingers have grown.
Here are some easy kits you can get from Amazon:
3. Baby Photo Shoot
Make Baby's First Christmas special by doing a photoshoot. You can have it done professionally or just use your phone. Either way make it special and have an "aww" moment. There are lots of options such as a santa cap and booties, snowman, or angel. These photos are also perfect for Christmas cards.

A new baby will be constantly outgrowing jammies. This is the perfect time to get some new ones to celebrate the holiday season. Don't wait until Christmas, get new pajamas December 1st so you and baby can enjoy them all season!
This year I picked up these double sets from Target so I could do a Christmas box on December 1st with one pair and save the other pair as a gift for Christmas Eve. I love seeing the kids in Christmas jammies the whole month of December. It makes it feel extra special staying up late and watching Christmas movies and eating popcorn.
Libby asked for Santa pajamas this year. Target had both sizes for Lainey and Libby. If you love them, you can check them out here: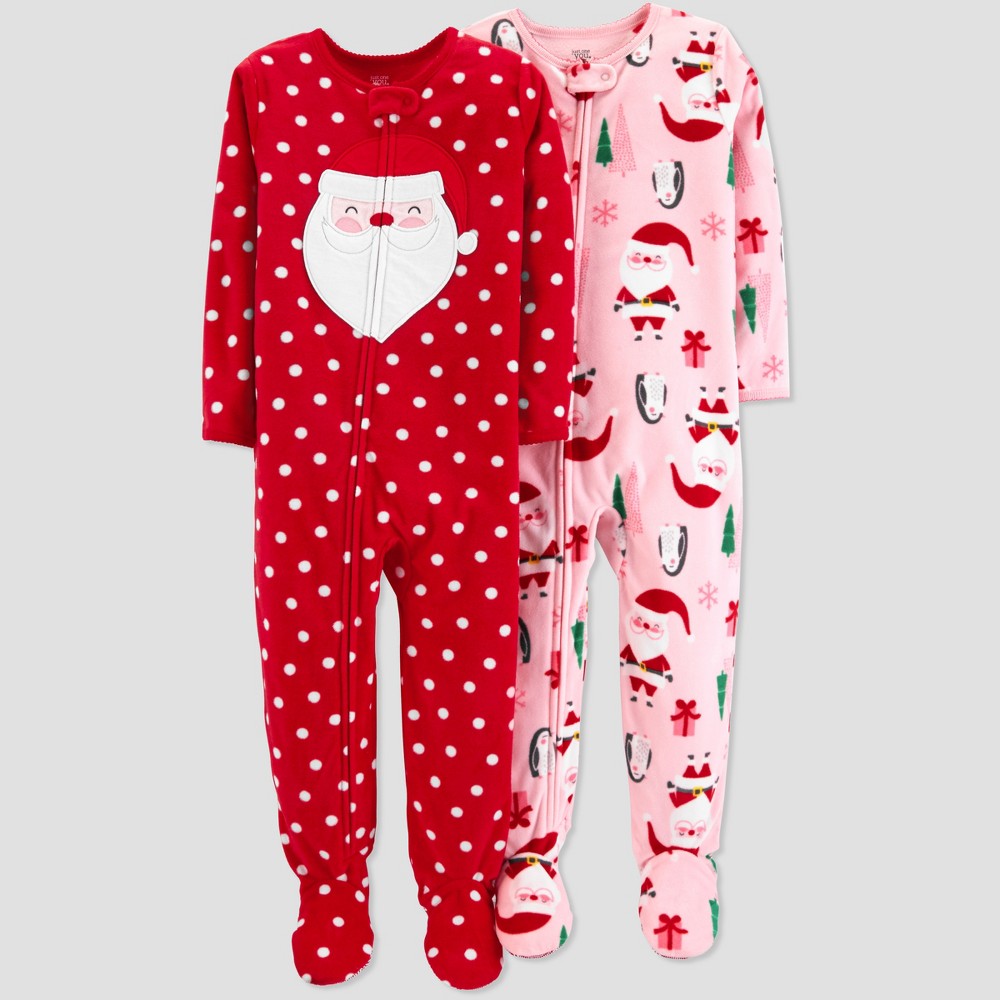 5. Pick out Baby's first stocking
The stockings will be hung up, all in a row, with one new addition! There are endless options for baby's first stocking. You can go with a more traditional red, white and green option.
Or you can explore baby girl christmas stockings or a baby boy christmas stockings. Further, there is the option to have a stocking personalized, which is nice because they can use it for many years to come.
50 Stocking Stuffer Ideas for the Whole Family
Gifts and Stocking Stuffers for a Baby (0 -12 months)
6. Touch Snow
If baby will be closer to one by Christmas time, he or she will probably enjoy playing with some snow. Unlike the first time at the beach, fresh snow will be much tastier if it finds its way into baby's mouth.
This will also make for good memories to add to the Christmas photo album.
7. Watch a Christmas Movie
Baby may be to small to remember, but these will be special family moments. Take the time to slow down and snuggle up with your littles.
Watch one of the many Christmas favorites like, How the Grinch Stole Christmas, A Christmas Carol, or Elf. Another option is to watch some classics, A Christmas Story, Miracle on 34th Street, or It's a Wonderful Life. We watched Miracle on 34th Street for my Pumpkin's first Christmas. It was my first time watching it, so I will always have that memory.
8. Read Christmas Books
Find some favorite stories to read. Baby maybe to small to understand now, but it will make for some fun traditions when baby is older.
Make sure to right a special note for baby to read when he or she grows up about the why you are giving the book, and include the date of the first time you read it out loud with baby.
It's a fun way to encourage reading and create a special collection of Christmas books. You can always get used Christmas books on Amazon, sometimes for a fraction of the cost. Here is a list of Baby and Toddler Christmas Books.
Christmas Books for Babies & Toddlers
Gifts and Stocking Stuffers for a Baby (0 & 12 months)
Baby's First Christmas Outfits
Baby will only have one First Christmas, take advantage of all of the cute clothes and accessories to celebrate the season. First Christmas clothes are a fun way to tell a story in pictures for scrapbooks, memory books, or photo albums. Plus the little ones just look so adorable!
Don't miss your opportunity for savings and cash back. Check out
Rakuten for the best deals
to maximize your Christmas budget.
More things Baby:
SaveSave
SaveSave
SaveSave
SaveSave
SaveSave
SaveSave
SaveSave
SaveSaveSaveSave
SaveSave
SaveSave
Join me over coffee with household tips, money savings and holiday fun.