Libby just turned three. Crazy to think my little baby is now a little girl. For the past two years we had big family parties at the house(30-40 people). Just a few months ago we hit the reset button on our budget and are trying to hit some of our financial goals by next October.
In lieu of a big party, I still wanted to make her birthday extra special. My birthday is a few days before Christmas and my mom always made it a point to make my birthday special. Even without a party.
We would go to lunch and shopping. She would set out little cakes and flowers and just do little things to make my birthday special.
As moms, it's such a blessing to honor our kids on the day they came into this world. I thank God everyday for my healthy, beautiful children. As I am sure you do to 🙂
So in lieu of a big birthday party, here are a few things to do make your toddler's day special.
This article contains affiliate links.
Ways to make a Toddler's Birthday Special without a Big Party
Pick-out a Special Cake
Every birthday needs a cake. At three they become soo much more independent, right? Originally, I thought it would be fun to make a cake a together. It's definitely a much cheaper alternative.
After being stuck in the house all week, we ended up making a special trip, picking out an Ariel birthday cake.
For toddlers, even the smallest errand can seem like a big deal. We went up to the grocery store and she got to pick her cake.
All weekend she was excited to go get it from the store.
Even without a party, making or picking out a special birthday cake makes the day special.
Sprinkles & Candles
Add sprinkles and candles to anything, breakfast, lunch or dinner. Fresh whipped cream with fruit makes for the perfect birthday snack.
Balloons and Party Hats
Balloons are still so fun for young kids. Place them everywhere. Hang them and let them dangle. My mom tied these up using a birthday present ribbon.
It was super easy and dressed the room up. Grandma also brought over a few birthday supplies and Libby enjoyed setting the table all by herself.
Favorite Presents
It's always nice to pick out a few gifts to make your toddler's birthday special. When we do a party, we usually do one small gift, like a pair of pajamas. This year she got a couple presents and a kinder egg. The other is for Christmas 🙂
The birthday gifts:
I can't find the exact one I got. It might be available in stores only. Here's another cute Cinderella princess dress, but it's more expensive then the one we bought.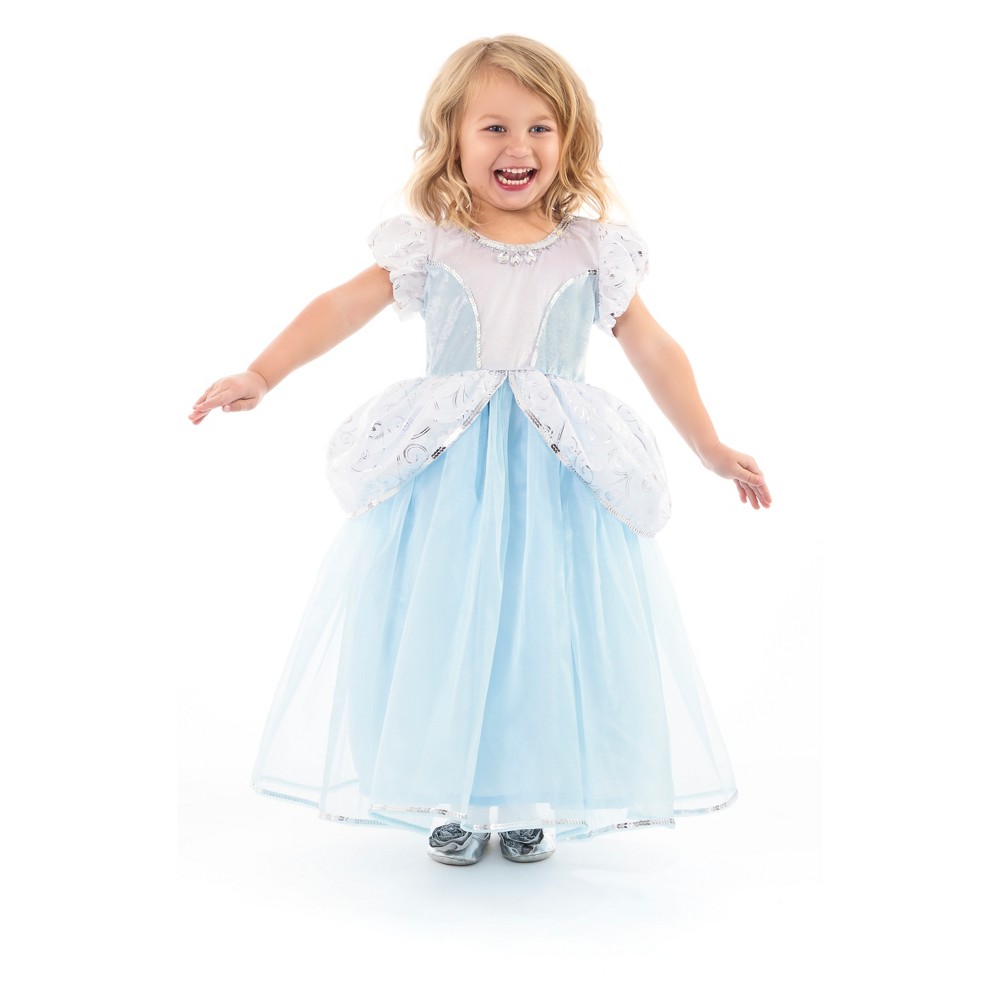 This ice-cream cart is fun for pretend play. The scoops and the ice creams are magnetic, so they are easy to scoop and stack. It comes with little cards so you can "order" different ice-cream combinations. The side has two slots where you can store everything.

Scavenger Hunt
A scavenger hunt or hide and seek is another easy idea for making a toddler (or any kids) birthday special.
Take the number of years your child is turning and hide tiny trinkets, dollars, or candy in that amount.
I used some left over loot bags and placed three small items in them. I scattered them around her kitchen set: Slime, a Kinder Joy and a pair of clip on earrings.
She also had to find her LeapFrog Scoop and Learn Ice Cream Cart. It was hiding under a blanket behind the couch.
As a side note: I purchased Ryan's World Slime because it said age 3+ on it. While it was fun having a mystery color, it was very watery. It only lasted for one or two uses before really breaking down. I wouldn't recommend it.
A Big Transition
Talking about turning three, and becoming a "big girl," it seemed like the perfect opportunity to transition into a "big girl bed." If there is a special milestone that is age appropriate, a birthday is the perfect time to introduce and celebrate becoming a year older.
It makes the birthday extra special and is an easy way to introduce new responsibilities in a positive way.
What are your favorite ways to make a birthday special? Leave a comment below 🙂
Join me over coffee with household tips, money savings and holiday fun.